Realiscape Typorama takes part in "Xenios" Project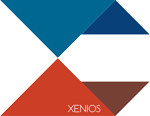 XENIOS PROJECT
An integrated application platform to protect and promote cultural and tourist sites.
The XENIOS project aims to develop services for the short-, medium-, and long-term forecast of extreme natural phenomena and natural disasters in sites of tourist and cultural interest, which are also vulnerable to natural hazards. The ultimate objective is to contribute towards a more effective management and mitigation of these risks.
In addition, the project aspires to enhance safety and improve the tourism product at these sites, through a mobile app which will offer visitors prompt and reliable information.
Summary
Tourism is a key sector driving economic growth in Greece. Thus, it deserves maximum attention and investment of effort for offering a high-class tourist product to visitors, who need to feel safe and relaxed during their visit or stay. A positive experience for tourists starts with the characteristics of the site they are visiting, be it archeological, cultural, environmentally unique, entertaining, etc. However, they also need to feel that attention is being paid to them and their well-being. This attention includes provision of relevant information on the elements of the site that are of interest to them and a feeling that they are safe.
The XENIOS project combines the increase of safety with the improvement of the tourist product in these areas, through a mobile app that provides timely and reliable information to visitors.
Depending on the nature of the information, forecasts are designed to be available in the form of intelligible maps, alerts or brief reports, through an online application and mobile app, which have been designed according to the needs of the different end-user categories. The XENIOS system—that hosts these services—operates interactively throughout all risk management levels, from the local (cultural/tourist site) to the regional and national ones, exchanging information and knowledge with real-time status reports and updates. To develop these services, satellite, meteorological, field, and aerial data are processed and analyzed intelligently, in order to provide predictions in different spatial and temporal scales. The experience and expertise of the collaborating research and business partners ensures both a timely planning and a sound implementation of the services and final platform. Finally, all opportunities for commercial exploitation of the platform are being thoroughly investigated via the composition of a comprehensive business plan.
OBJECTIVES
XENIOS proposes solutions for the:
provision of comprehensive and timely information to the competent site management bodies;
support of these bodies in employing different means for protecting both the visitors and the surrounding area from natural events and disasters. Communication with the visitors is achieved through a mobile application that also offers rich tourist content.