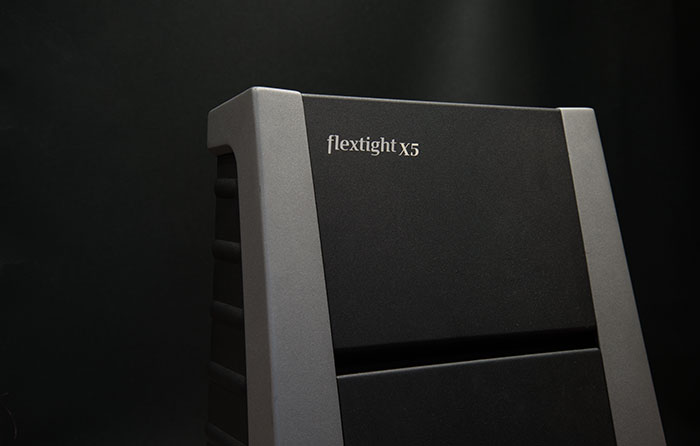 The Flextight X5 is the top model in the Flextight scanner series providing the best of all worlds. Ease of use, incomparable quality, unique, batch scanning facilities all packed in a classical and characteristic design.
The X5 is the only one in the market that combines extremely high quality (8000 dpi optical resolution and 4.9 D max) and scanning speed (35mm: 1.55 minutes, 60mm: 1.10 minutes, 4 x 5": 1.23 minutes) making it top chice for demanding high voloume digitization projects. Its color depth is 16 bits per channel.
Even though scanners with larger sensors exist in the market, better clarity and detail rendition when scanning photographic film, is hard to find. That is due to the electronic handling of the sensor, the mechanical precision as well as the quality of filters and the resolving power of the Rodenstock lens.
Heat reduction solutions are another example of features not found on lower range scanners. By putting the power supply outside the scanner and using a cold cathode light tube, X5 scanner even has active sensor cooling, which means that an electronic cooling device is placed directly on the CCD, which increases signal to noise ratio by 1 to 2 bits.
With X5 user can scan both negatives and transparencies from 25x35 to 100x280 mm size. It can also scan reflective prototypes up to A4 size.